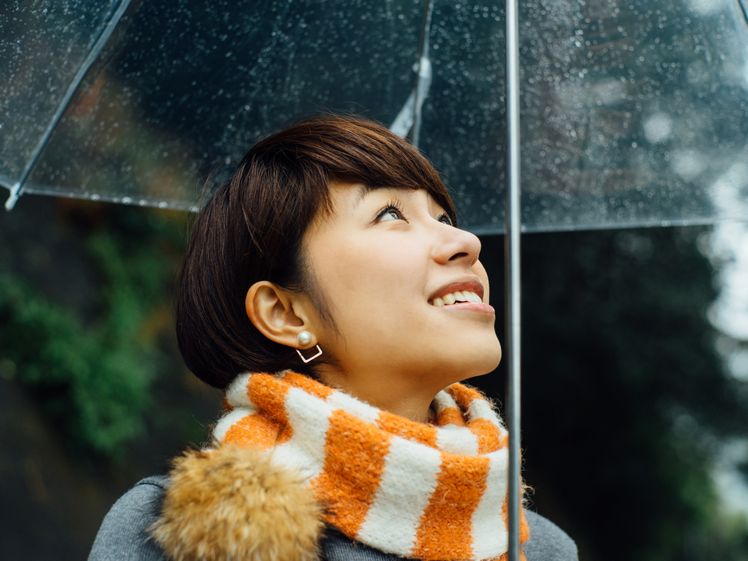 I believe many people hate taking portraits on rainy or cloudy days.
You may always feel that the photos you take are gloomy and dim.
But in fact, the photos taken on rainy days have a different feeling than when taken on sunny days.
Of course, compared to sunny days, many light characteristics cannot be brought into play, but as long as you understand the light characteristics in cloudy or rainy days, you'll find out that some photos can only be taken on a cloudy day.
Consider Shooting on Cloudy or Rainy Days
Because many light features are not visible on cloudy or rainy days, use the lens characteristics as much as possible to highlight the subject when taking photos.
One of the most commonly used methods is to use a large aperture lens to create a shallow depth of field to highlight the subject, and the other is to find a special background that has character due to the weather, to make the entire picture pop.
Find Some Places Where the Directional of Light Can be Used
On sunny days, I try to find the direction of side-light or backlight, because taking pictures in a different light changes the feeling. For example, the three-dimensional effect captured in side-light or a silhouette of a person protruding when backlighting.
But on cloudy or rainy days, the light is soft and is scattered by the clouds.
Since sunlight almost has no direction when in an outdoor environment, it is difficult to take advantage of the characteristics when shot under different directions.
In this case, I will find some indoor places where there is a lot of sunlight, such as a window, a coffee room, or a restaurant with floor-to-ceiling glass.
There are two major benefits to choosing these places. The first is the light passing through the window or the floor-to-ceiling glass will change in all directions. Horizontal light is very suitable for portrait shooting, and the light and dark positions on the face of the person will become very natural and comfortable.
The second is that the light passing through the window or under the floor glass will be changed into directional light, so you can use positive side-light and the backlight to put the characteristics in different directions. Although in sunny conditions, you can also shoot through the window or under the glass. Compared to sunny days, the light is softer, which is especially suitable for taking portrait photos that are naturally soft and comfortable.
I like to shoot portraits with a positive light in this case.
Some shops or restaurants have a recessed front door.
Because the light above is blocked, only horizontal light is left, so that the directivity of the light can be exerted.
The side-light, as shown above, brings out a good three-dimensional sense.
Turn an umbrella into a very useful little prop
The transparent umbrella with a Japanese feel is a small prop that I like to use.
Because the small raindrops attached to the umbrella when using a large-aperture lens can turn into a lot of distinctive bokeh waves, it adds another layer to the entire picture and adds another atmosphere.

Above: The raindrops on the umbrella under the bokeh become very characteristic small dots
Make the Most of your Background on a Rainy Day
Some of them now appear as if they are raining.
If you make good use of it, you can shoot special scenes.
Above: The hazy background when it rains sometimes creates a very special atmosphere, and it can also highlight the subject more.
I like to take portraits on cloudy or rainy days because some photos can only be taken in cloudy conditions.
Next time, you may try to take pictures on a cloudy or rainy day to see if it will take a different taste than when it is taken on a sunny day.